Details
Info
Női ruha méretek
Termék adatok
Details
The material itself is patterned.
Color: dress color beige, cord color is beige.

Material: jacquard.
Material Composition: 47% polyester, 50% cotton, 3% spandex.
Available sizes: 34, 36, 38, 40, 42, 44, 46
We make a custom size with a two-week delivery deadline!


Handleability: Due to the nature of the garment, it can be chemically cleaned!
Info
Női ruha méretek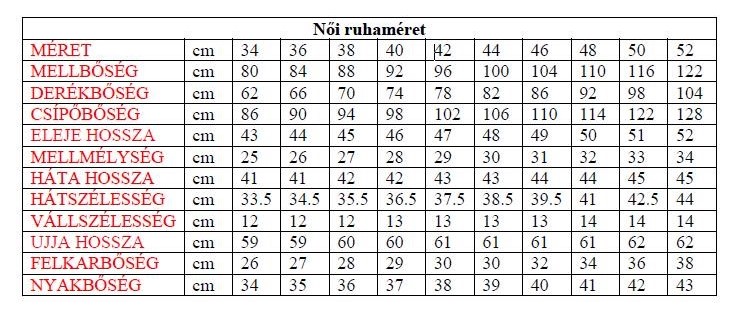 Termék adatok
Anyaga önmagában mintás.
Színe: ruha színe bézs, a zsinór színe bézs.

Anyaga: jacquard.
Anyagösszetétel: 47% poliester, 50% pamut, 3% spandex.
Rendelhető méretek: 34, 36, 38, 40, 42, 44, 46
Egyedi méretre készítést vállalunk két hetes szállítási határidővel!
Kezelhetőség: A ruha jellegéből adódóan vegyileg tisztítható!